Groupon - ottawa
C$199 for PilotforaDay Experience or Pilot License Program from International Pilot Academy (C$460 Value)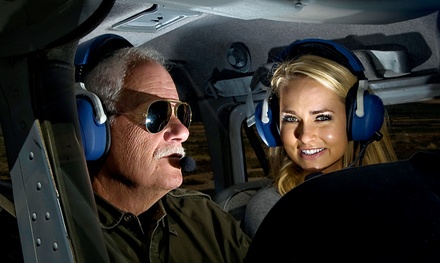 Price: $199.00
Value: $460.00
Saved: $261.00
Discount: 57%
Deal went live: Jul 02 2014
Time Remaining:
Details
< AppOpsRevertibleCopyBanner40beginning >
Popular Gift
Select the gift option above to create a beautiful ecard or printable gift card and voucher.
< AppOpsRevertibleCopyBanner40ending >
Choose Between Two Options
C$199 for at 6090 minute pilotforaday experience for one person (C$460 value)
C$450 for private pilot license program with a 30minute intro flight and 40hours of ground school classes (C$939 value)
During the pilotforaday experience, an instructor leads students through ground instruction, which gives a synopsis of a pilots duties and shows them how to handle calculations, determine fuel needs, and understand navigation systems. For the next 45 minutes, the pupils start the engine and take to the skies, twisting and turning until it is time to land.
Before entering the private pilot license program, students must complete a medical exam with an approved Transport Canada medical examiner. To earn their license, they must pass both a written examination and a flight test.