Groupon - north-jersey
Italian Dinners for Two or Four with Appetizers and Wine at Pasta Cucina (Up to 42% Off). Four Options Available.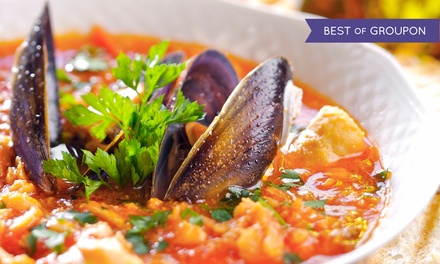 Price: $39.00
Value: $64.00
Saved: $25.00
Discount: 39%
Deal went live: Sep 26 2014
Time Remaining:
Details
< AppOpsRevertibleCopyBanner99beginning >
This merchant has earned the title of one of our bestselling, bestloved deals of the year
< AppOpsRevertibleCopyBanner99ending >
Eating international fare at a local restaurant bypasses many transatlantic travel woes, such as jet lag and oar splinters. Stamp your palate&8217;s passport with this Groupon.
Choose from Four Options
$39 for an Italian dinner for two on SundayThursday (up to a $64.97 total value)
$45 for an Italian dinner for two valid any day (up to a $64.97 total value)
$75 for an Italian dinner for four on SundayThursday (up to a $129.94 total value)
$85 for an Italian dinner for four valid any day (up to a $129.94 total value)
For each option, each pair of diners receives:
One appetizer
Two entrees
Two glasses of house wine
View the menu here